Family Trust and Related Marriage Theory and Practice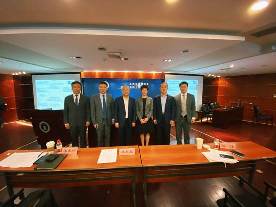 November, 2020
Author: Phoebe Luo
On September 11, Ms. Phoebe LUO, General Manager of Zetland Fiduciary Group in China, was honored to be invited by the Shanghai Lawyers Association's Trust and Marriage & Family Business Research Committees to attend the "Family Trust and Related Marriage Theory and Practice" seminar. With a combination of both online and offline participants, there were over 200 professionals in attendance.
With the increasing number of high net worth persons in China in recent years, the concept of family wealth inheritance began to change. With its unique attributes, family trusts have quickly gained popularity and widespread attention. This seminar sought to explore the family trust further.
The Vice President of the Shanghai Bar Association Dongping Lin, a lawyer, gave the opening speech. Lawyer Xianming Li, a partner of Shanghai's AllBright Law Office and the director of Shanghai's Law Association Trust Business Research Committee then spoke of the rise of the family trust. Lawyer Han Zhang, a partner of AllBright's Law Office, discussed the intricacies of the Model Guide in legally operating a family trust. Lawyer Xiaocheng Wang, a partner of Grandall Law Office in Shanghai, spoke of the changes of estate management and testamentary trusts in the light of the New Civil Code, and put forward a unique view on the obligations and powers of the executor.
Lawyer Haiyong Zhao, a senior partner of Shanghai's Hansheng Law Office, discussed the demand from HNWIs for non-cash trusts and its operation. Differences between the civil law system and common law system were also discussed.
As the demand for global asset allocation grows, Zetland Fiduciary Group creates trust structures with this in mind rather than opting for traditional offshore structures. Ms. Phoebe Luo explained the importance and the role of the offshore trust in inheritance planning, tax planning, asset management and property preservation which shows the importance of fiduciary duty in the inheritance of family wealth.
Zetland Fiduciary Group provides professional services for customers, especially for those entering the Chinese market and wishing to expand their business. Zetland will support development requirements at different stages with the following services:
China Market Entry Legal Consulting and Tax Planning;
Work Place Solutions;
Corporate Formation;
Accounting and Tax Compliance Service.
For more information, please feel free to contact us via email shanghai@zetland.biz / beijing@zetland.biz or call us at +86 21 64272930.