UAE Mainland Trade Licences Explained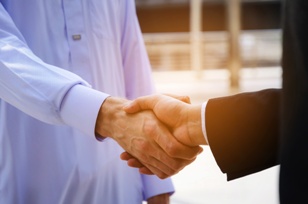 April, 2021
Author: Dominik Stuiber
Conducting any business activity in the UAE is regulated by government authorities and thus requires a trade licence to operate. This applies to the country's mainland and numerous free zones alike. Having a trade licence certifies a legitimate business that complies with local laws and regulations.
A mainland company is a company licensed by the Department of Economic Development (DED) in the relevant Emirate of the United Arab Emirates. While a free zone company is licensed by one of the Free Zone Authorities and covers only a limited geographical area within which companies are allowed to operate.
Unrestricted Market Access
A mainland company has no restrictions regarding who a company can trade with or where it can trade in Dubai. In order to offer services to the government or trade directly with consumers, then it is essential that a mainland company is established.
In addition, a mainland company has no limitation on the number of visas that can be issued. Visa quota is approved based on commercial space; the more office space, the greater number of visas can be issued, even to an unlimited number.
Location Flexibility
A mainland company can be located anywhere in the mainland of Dubai. It is also possible to start a mainland company without a physical space, if you do not require this at the outset.
Widest Activity Offering
Mainland companies have much more business activities on offer too, while free zones have limited activity offerings, which often relate to the themed category for that particular free zone.
100% Ownership Control
It is a common misconception that all Mainland Companies must have a Local Partner who holds shares in the business, and often solely for this reason, investors opt for a Free Zone company. Establishing a mainland company with a professional activity (e.g. project management, accounting or technical services) provides the possibility to own 100% of the company in the legal form of a Sole Establishment (one shareholder) or as a Civil Company (more than one shareholder).
Below are the three types of trade licences to consider when starting a mainland business in Dubai:
Professional trade licence
The UAE government requires businesses and entrepreneurs to obtain a professional licence from the Department of Economic Development (DED) before they can be authorised to provide their professional services to clients.
The purpose of professional licensing is to establish that the person or business is qualified to provide services in a certain profession. Issuance of these licences generally requires the applicant to show certain skills or training.
All professionals, specialists, craftsmen and artisans need to acquire a professional trade licence to set up a business in Dubai.
Commercial trade licence
A company dealing with buying and selling of goods and commodities, or any kind of trade activities, requires a commercial trade licence to operate in the UAE. This licence can be used for both specialised trading and general trading activities in the UAE.
There are different types of commercial trade licences in the UAE. It is imperative to apply for the correct type of commercial trade licence that will permit the carrying out of trading activities specific a business.
Broadcast and communications companies, rental transportation services, retail companies, construction companies, healthcare businesses, real estate businesses, and other general trading entities also need to apply for a commercial trade licence.
Industrial trade licence
Businesses that want to conduct industrial or manufacturing-based activities in the UAE must acquire an industrial trade licence, which will allow to engage in activities related to converting natural materials or incorporating natural resources into end products.
This licence is issued by the DED but additional approvals might be required from the Ministry of Finance, the Ministry of Energy and Infrastructure and other authorities, depending on the industrial activity involved.
Get expert help in starting your new business in Dubai
It can be difficult to identify all of the licences and permits that apply to a business. Hence, it's always best to consult a business setup specialist to ensure compliance with the licencing and regulatory requirements applicable. Zetland has partnered with Virtuzone, the leading company setup specialists in Dubai and the UAE, to provide UAE solutions.
For more information continue to our guide at https://zetland.biz/PDF/guides/?Guide_to_Doing_Business_In_UAE or contact us today at intray@zetland.biz to get started in the UAE.